"Now, more than ever, it's important for everyone in our community, and communities across the country, to support local business." – Kim Bonnet, owner
Since 2007, Andy & Kim Bonnet have welcomed residents and visitors alike into Rubaiyat — to enjoy dishes in Downtown Decorah that are "food for thought". Their restaurant features a seasonal, American menu that emphasizes straight-forward, approachable cuisine that both looks and tastes clean and composed.  The simple, but skillfully prepared dishes showcase their commitment to using the highest quality products, in season, and local when available.
When visiting Rubaiyat, you'll likely be greeted by Kim, who will be ready to help you fully enjoy your evening. And Andy? He'll be there too — but behind the scenes in the kitchen creating your meal, pulling from his classic and diverse culinary influences. Together, they have built an establishment that highlights four qualities they value the most: integrity, style, restraint, and playfulness.
The name "Rubaiyat" derives from a collection of poetry written 1000+ years ago. The poems are a testimony of living life to its fullest with the help of good food and great wine, and together the joy that they can bring to life. Andy & Kim welcome the chance to share their love of food and wine with you in Decorah.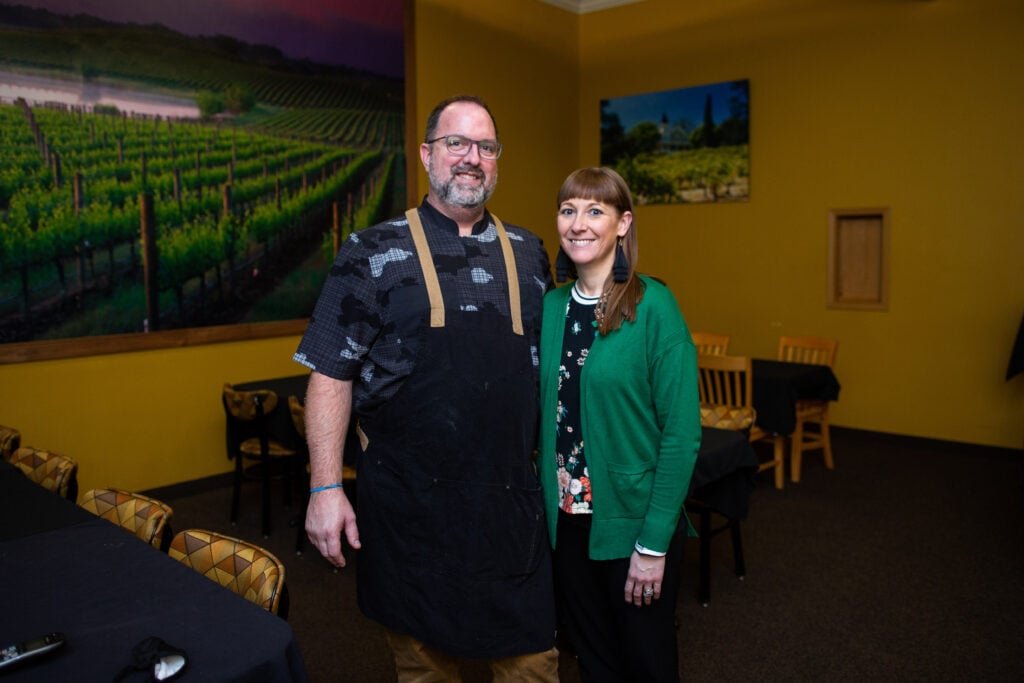 Modern American Fare in a Historic Space
The buildings that are home to Rubaiyat in Downtown Decorah were built in the early 1890s. They housed many other businesses in their first 100+ years before becoming Rubaiyat in 2007. Andy & Kim celebrated 15 years of business with the restaurant in November 2022. This year, after coming through the pandemic challenges, they are feeling energized to expand their offerings to their customers — with events, nightly features, and the incorporation of partnerships with as many local businesses as they can. They know that doing what they can to support other Decorah owned operations helps the whole town thrive. 
Kim notes that over the years the community — the people — have been her favorite, both with loyal returning customers and new visitors too! She also applauds the fact that Downtown Decorah business owners have a good working relationship with each other, and that's not something you can find everywhere. In fact, she added that at Rubaiyat they are quick to give a strong recommendation for one of their favorites, another local restaurant: La Rana Bistro!  The Rubaiyat staff is also well versed on local attractions, retailers, and parks to be able to help customers fully explore Decorah during a visit.
Plan ahead, Make a reservation

At Rubaiyat, reservations are key! Not only does a reservation guarantee your spot — it also helps Andy & Kim know how to prep and staff for the day. And its never too early, as they already have some reservations down for next year.

Shop the Rubaiyat wine shop! 

Did you know Rubaiyat as a retail license as well? Their wide selection includes varieties you won't find in big box stores, including their own private label. After dinner, buy a bottle to go!

Book the Private room for your next event 

Looking for a space for your next family gathering or work event? The Rubaiyat private room can hold up to 40 people.