When Jeff Brown started roasting coffee in 2015, he knew only that a cup of good coffee, served by uber-knowledgeable and charismatic staff, had a future in Decorah. He and his wife, Anja, had run The Perfect Edge frame shop on Washington Street on largely the same premise for nearly 30 years by that point, and their sons, Sean and Kai, had grown up in the family business (not always amicably, as any biz kid will tell you!). When Jeff went looking for a new skill set to expand their collective presence downtown, Impact Coffee Bar & Roasters proved a fitting direction. "It was that, or a craft brewery," Jeff jokes, "but that territory is pretty well claimed." (See Decorah's standouts: Pulpit Rock Brewing Co. and Toppling Goliath.)
Now Decorah's premiere roastery, Impact serves wholesale and retail customers with custom roasting, biscotti and baked goods by Anja, a full espresso bar, seasonal hand-crafted coffee drinks (Salted sugar bush latte? Agave sweet turmeric latte?) and a wide array of quality loose-leaf tea. Impact brings in coffee beans originating all over the world via the renowned Cafe Imports in Minneapolis. Many batches are organic and Fair Trade; all of them are premium arabica beans. Sean now works alongside Jeff as Impact's manager—and maintainer of Impact's poster-beard, appearing as the iconic "Nitro Man" (for nitro cold-brew coffee) on decals and Twitter.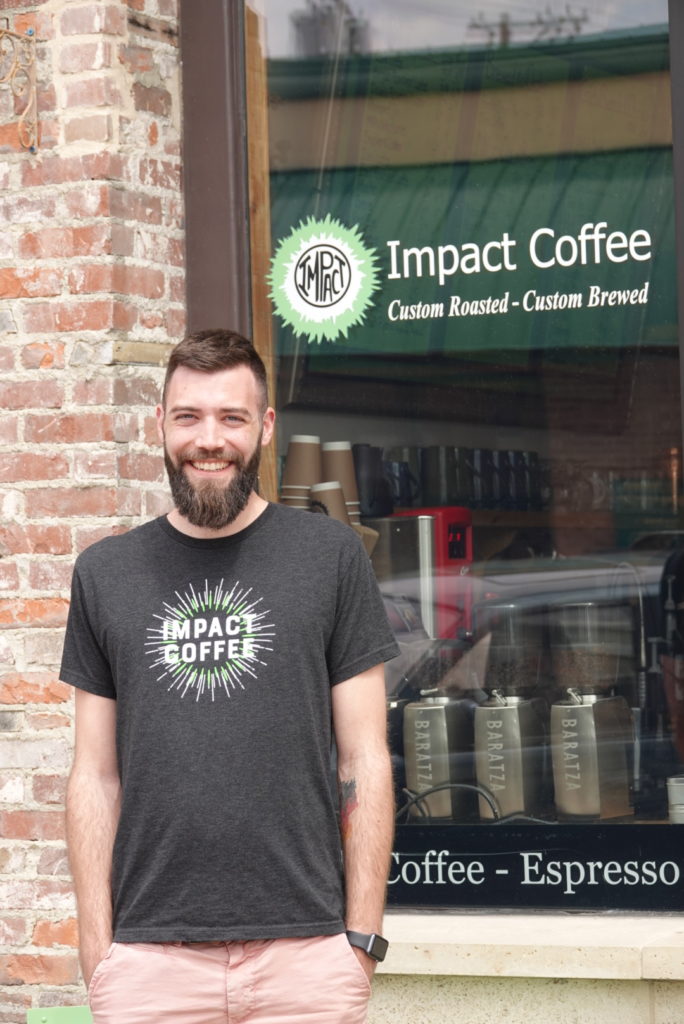 In summer 2019, Impact poured energy into its boldest idea yet: a move into the 21/2-story former JC Penney's building on Water Street. "It's a huge undertaking," Jeff says of the 5,000+ square feet, "a group effort, shared between our building owner/partners, our staff, and customers." The space builds on the Brown family's keen eye for detail and presentation, starting with the refurbishment of the storefront's stone entryway and plate glass windows. Jeff, for his part, has been systematically studying operations and service in coffee bars across the country, while Sean, usually a guy of few words, is a tad giddy about the coffee bar hardware: state-of-the-art recessed equipment not usually sighted outside of coffee towns like Portland.
Best of all, they say, the vaulting new space represents direct collaboration with customers. "What's been amazing is that as we're working, people will take the time to say, 'You know, it would be really awesome to have X or Z, or, to repurpose this antique Y I found,'" Jeff explains. That's how their first storefront got its trademark restored archway (from the former Fjelstul Funeral Home), and it's how the new store will prioritize lounge seating and a multi-use floor plan. "This is a place to meet up and connect with people, to find a place to sit and catch up," Jeff forecasts, adding that Impact may add beer and wine to its lineup. "It's a place to study and to listen to live music. It's after dinner downtown, or on your way to some other event." "And it's where you'll get the best coffee around," Sean adds, "from people who are excited about craft."