Mention pioneer-era writer "Laura Ingalls Wilder" and most people flash to a 9-year-old girl in a brown calico pinafore laughing and tumbling down a prairie hillside, as in the 1980s TV series. But long before that Laura captured hearts on screen, the real Laura Ingalls lived out a year of her childhood here in the Driftless, in the village of Burr Oak, Iowa.
In 1876-77, Laura, with her parents, Charles and Caroline, and sisters, relocated to Burr Oak as caretakers of the Masters Hotel, a property owned by family friends from another famous stop on the 'Laura trail' — Walnut Grove, Minnesota, site of Laura's book On the Banks of Plum Creek.
Burr Oak is often referred to as "The Missing Link" in the Little House book series, between the family's homestead in Minnesota and their pursuit of a fresh start in De Smet, South Dakota. The Masters Hotel, which appears on the National Register of Historic Places, is the only childhood home of Laura Ingalls Wilder that remains on its original site.
But why is it "missing"? The author herself was known to pare down fact for the sake of the storyline, says Barb Olson, director of the modern-day Laura Ingalls Wilder Park & Museum in Burr Oak. "Laura would say, 'A good writer doesn't involve too many characters.'" Or more simply, 'backtracking' into Northeastern Iowa didn't follow the books' narrative of pioneer expansion into the American West.
In reality, the Ingalls' stay in Burr Oak bore both hardship and happiness that still resonate with the more than 6,000 visitors who discover the "link" today. The Ingalls family arrived penniless, for example, after two years of crop failure in Minnesota, and in that year, suffered the death of 9-month-old Freddie Ingalls. In the end, though, the family celebrated the birth of the youngest Ingalls sister, Grace.
Beyond her stories, Laura Ingalls Wilder leaves a legacy of can-do spirit and gratitude for community. Inside the Burr Oak museum, artifacts include pioneer tools and artwork, staged in scenes to illustrate life in Laura's day. Outdoors, there's a playground and a landscaped path leading to Silver Creek, as well as a kitchen garden where guests can see and smell the herbs a family might have grown for both healing and cooking.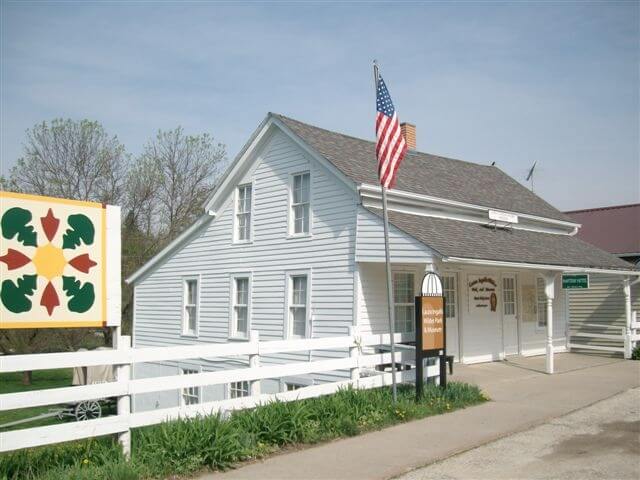 "You can ring the bell of the church the Ingalls family would have attended," Barb explains, as well as dress up in pioneer costume for a photo in a replica covered wagon. Guests also enjoy walking the headstones in Burr Oak Cemetery, which Laura made her Saturday pastime when she lived there. The Laura Ingalls Wilder Visitor Center, located in the Burr Oak Savings Bank, built in 1910, offers books written by and about the Ingalls, historical photos, letters Laura penned to her many fans, and a chance to tour the original bank vault. The museum and visitor center, organized as a 501(c)3 non-profit, has also acquired the former Burr Oak mercantile building, adjacent to the current museum, and will restore it as funding and needs allow.
"We get people from all 50 states and several foreign countries each year," Barb says, adding that hundreds of visitors come asking questions that arise in their reading about Laura's childhood. "No, Mary Ingalls never married—that was fictionalized by the TV series," Barb explains, for example. "But yes, ohhh yes, there was a Nellie Olson—and she was as rotten as Laura described her, probably worse!"
Laura Ingalls Wilder Park & Museum Hours and Events
(563) 735-5916
May: 10am-4pm Mon-Sat and 12pm-4pm Sun
Memorial Day to Labor Day: 9am-5pm Mon-Sat and 12pm-4pm Sun
September through mid-October: 10am-4pm Thu-Sat
Guided one-hour walking tours are available each day, with the last tour departs from the Visitor Center one hour before close. Groups of 10 or more, including school groups, should call ahead to make reservations.
Laura Days — a living history celebration of pioneer craft and community
Held the fourth weekend in June each year, events include a 5K run, a parade, children's pioneer games and activities in the park, craft demonstrations, a food tent, entertainment, Little Miss Laura and Young Almanzo contests, tours of the Masters Hotel, and more. Visitors may also attend an ecumenical church service in the restored Advent Christian Church Sunday morning.