Craft beer was already big business in Decorah (home to internationally acclaimed Toppling Goliath) when Pete Espinosa, his wife Kari, and a close group of other Luther alumni bought the laundromat on College Drive and built….a craft brewery. Sounds counter-intuitive, but Pete, a veteran entrepreneur, explains how Pulpit Rock Brewing Co. is a natural fit. "We bought the building—along the bike trail, gateway to downtown—without knowing exactly how to fill it, but we knew we wanted to help this key footprint be successful. From the beginning, we asked ourselves, 'What's good for Decorah?'"
First, Espinosa and company revitalized the laundromat and learned in the process how much it's appreciated. "We met people from every corner of our community who depend on it," Pete says, "and not just to wash a giant bed comforter." The experience cemented the inkling that business in the service of community would thrive—and helped Pulpit Rock shape its business model.
For starters, they painted one wall of the tasting room blue—a quirky trademark that feels stylish, homey, and above all, welcoming to women. "Half the population!" Pete continues, crediting Kari with the foresight to level up from men-at-the-bar-drinking. There's only one modest TV in the place—often tuned to tennis, cycling, or soccer—and only one team pendant on the wall—for Luther Cross Country. Most important, Pete says, Pulpit hired uber-talented Iowa-grown brewmasters and bar staff who share one important criterion: "They're good people." Today, the calendar is full of super-small batch releases, yoga classes, a pet-friendly annual fund-raiser for charity called Pulpit to Pulpit, and more. In other words, Pulpit Rock welcomes everyone, whether you come for the beer or not.
"Everything on our list is special, focusing on fun ingredients," Pete continues. Indeed, see Saftig, "a hazy, east coast IPA style showcasing both Mosaic & Simcoe hops." Or, try these summery special releases: Rhustrawbarb (a strawberry rhubarb sour), Lavish ("orange golden oreo sour") and Camper (a "s'mores stout"). "We are a destination brewery—people have to come here to get it," Pete says, "and lo and behold, they do."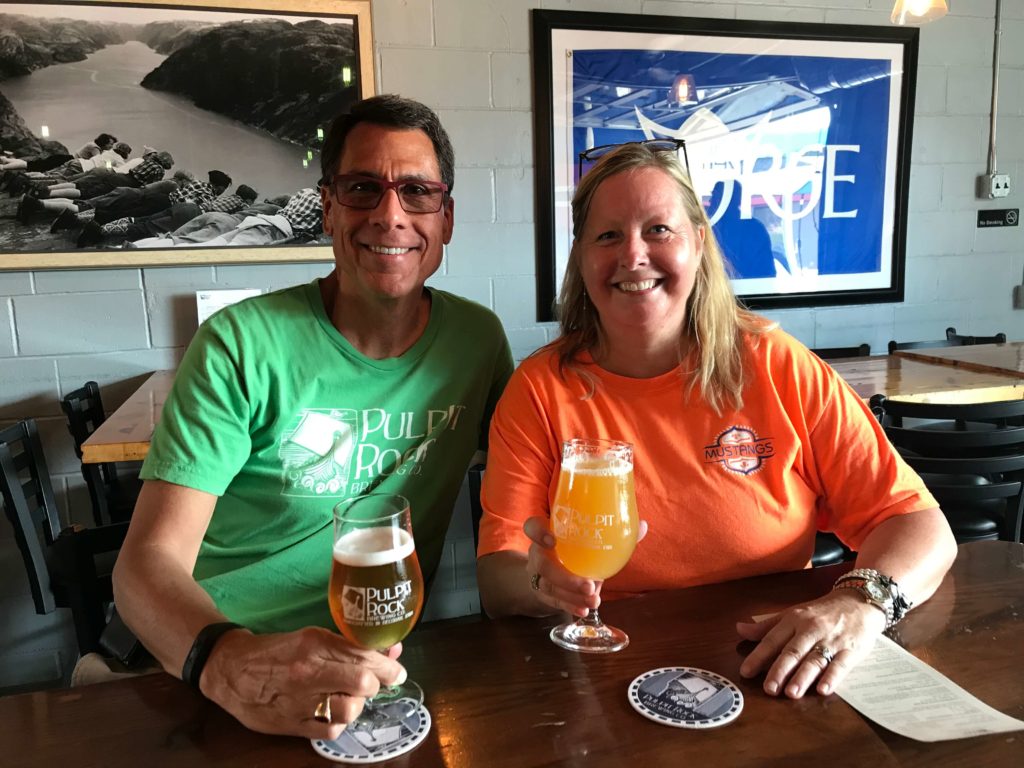 Celebrating four years in 2019, Pulpit Rock has expanded its "contemporary American" brewing capacity twice and since moved the laundromat, under successful new management, across the street. In its place, you'll find Pulpit's rustic-chic events room, suitable for rehearsal dinners, literary readings, and alumni reunions alike. The room and patio tables out front comfortably handle overflow from Pulpit's main tasting room and give patrons space to have conversations so engaging no one picks up their cellular device.
Next, Pulpit will renovate the adjacent building to the north, formerly 6 Day Discount Furniture, becoming Decorah's first "food hall." The idea is not to compete directly with established restaurants and event spaces, Pete says, but to fill gaps in Decorah's small-townishness. With this new late-night, alcohol-free hangout, Luther students and other night owls can get a quick bite and good roasted brew (courtesy Impact! Coffee) after 10pm on a Sunday, when most of small-town America is closed up tight, Pete explains. Ideas for the food hall continue to ferment, such as building its commercial kitchen around Decorah's own Spectrum Industries workforce. "With every decision, we still ask, 'Is this good for Decorah?'" Pete concludes. Signs point to "Yes."